Wow. I really dropped the ball on this one. Sorry it took me so long to update the challenge. I feel bad. >__< I guess school got in my way. But not entirely. I just got bored. And I got a new Photoshop version. I'm just a butthead. Sorry.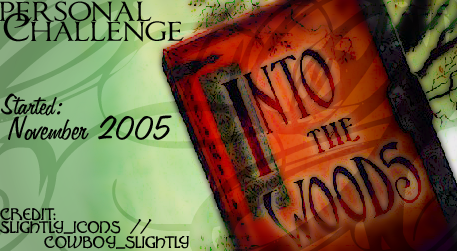 Subject: Into the Woods
Updates:
May 21, 06: 36: good, hope, excitement, rainbow, sunshine, brightness, power, everlasting, cold, young, old, dirty, clean, small, friends, party, family, togetherness, time, carefree, ac16, ac 17, ac 18, ac 19, ac 20, ac 21, ac 22, ac 23, ac 24, ac 25, ac 26, ac 27, ac 28, ac 29, ac 30, ac 31
Dec. 14, 05: 15: evil, sadness, anger, song, cute, pain, ac7, ac8, ac9, ac10, ac11, ac12, ac 13, ac 14, ac 15
Nov. 17, 05: 12: worry, humor, believe, strange, alone, big, shiny, tired, ac3, ac4, ac5, ac6
Nov. 15, 05: 18: blue, red, green, yellow, black & white, happiness, beautiful, ugly, magic, darkness, looking back, journey, hero, animal, sidekick, battle, ac1, ac2

Additonal Notes:

Rules and what-not:
1) Do not hotlink. Save to your own server. (ex: www.photobucket.com)
2) Comment if taking any.
3) My resources/credit archive.
4) Credit
cowboy_slightly or
slightly_icons in the keyword. If you dont know how...


banner picture from granths.com

Template for this challenge came from
wd_100.

Pictures came from my own collection of screen caps.

TEASERS:


//

//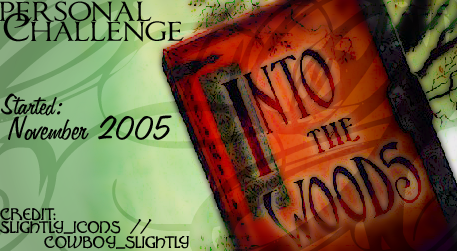 | | | | | |
| --- | --- | --- | --- | --- |
| 001 : blue | 002 : red | 003 : green | 004 : yellow | 005 : black & white |
| | | | | |
| 006 : good | 007 : excitement | 008 : happiness | 009 : hope | 010 : beautiful |
| | | | | |
| 011 : evil | 012 : worry | 013 : sadness | 014 : anger | 015 : ugly |
| | | | | |
| 016 : song | 017 : humor | 018 : rainbow | 019 : magic | 020 : cute |
| | | | | |
| 021 : sunshine | 022 : believe | 023 : brightness | 024 : power | 025 : everlasting |
| | | | | |
| 026 : strange | 027 : cold | 028 : alone | 029 : darkness | 030 : pain |
| | | | | |
| 031 : looking back | 032 : journey | 033 : young | 034 : old | 035 : hero |
| | | | | |
| 036 : dirty | 037 : clean | 038 : big | 039 : small | 040 : animal |
| | | | | |
| 041 : sidekick | 042 : friends | 043 : party | 044 : family | 045 : togetherness |
| | | | | |
| 046 : battle | 047 : time | 048 : shiny | 049 : carefree | 050 : tired |
| | | | | |
---
50 A R T I S T ' S C H O I C E
| | | | | |
| --- | --- | --- | --- | --- |
| 001: give boy | 002: torn apart | 003: meet again? | 004: empty | 005: telling it |
| | | | | |
| 006: sell friend? | 007: empty notext | 008: glasses | 009: better see1 | 010: better see2 |
| | | | | |
| 011: present | 012: wishes | 013: cackle | 014: ran away | 015: giants bigger |
| | | | | |
| 016: no more | 017: lonely | 018: granny | 019: sincere | 020: turn |
| | | | | |
| 021: glare | 022: smile | 023: group | 024: dead | 025: shock |
| | | | | |
| 026: laugh | 027: impressed | 028: the baker | 029: look up | 030: angry |
| | | | | |
| 031: jack | 032 | 033 | 034 | 035 |
| | | | | |
| 036 | 037 | 038 | 039 | 040 |
| | | | | |
| 041 | 042 | 043 | 044 | 045 |
| | | | | |
| 046 | 047 | 048 | 049 | 050 |
| | | | | |



X-Posted in:

cowboy_slightly //
slightly_icons //
intothewoods //
bway_icons