I cannot believe how long it's been since I last posted a moodtheme. Wowsers. I almost don't remeber how to post this. XP How sad is that?!

Well, after a long wait, I finally have the Fox's Peter Pan and the Pirates moodtheme I've been dreaming of making. Yeah! It took me long enough! To download the file, click the image/preview below. But first...

...The rules and what-not:
1) You must have paid account to use a custom moodtheme. Sorry, for those of you who don't have one and want to use this. That is just the rules of LiveJournal.
2) Please comment if taking. I like to know where this is going. Plus, its just nice to see that others like this moodtheme.
3) You must credit in your 'User Page'. If you do not, I will keep bothering you until you do. Just write something like, Peter Pan and the Pirates Mood theme by
cowboy_slightly . How easy is that?
4) Direct link anything of mine and you will die a most painful death. So don't do it, please.
5) If you are interested in the pics, check my resources/credit archive.

Now that you have been well informed, on to the download! Like I said before, click the image/preview below. Don't forget to 'save target as...". Unzip it and open the document titled '!READ ME FIRST!' If this is your first custom moodtheme, there is a step-by-step guide that t will tell you exactly what to do. And if you have any questions, please don't hesitate to ask. I will do my best to answer them the best I can.

Enjoy!!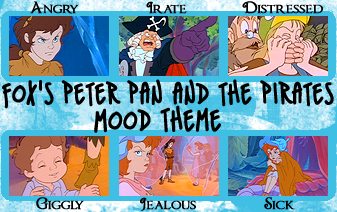 DOWNLOAD ME HERE // PREVIEW ME HERE
Fox's Peter Pan and the Pirates characters and pictures (c) Fox
Peter Pan concept (c) J.M. Barrie


X-Posted in:
cowboy_slightly //
slightly_icons //
toon_icons
IF THE DOWNLOAD LINK EXPIRES, TELL ME SO I CAN UPLOAD IT AGAIN! THANKS!